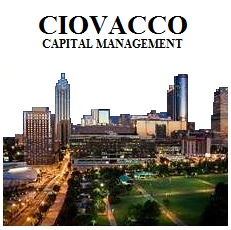 Why did the model struggle in 2014-2015?

Markets experience some rare behavior from time-to-time. Between 1950 and 2012, the S&P 500 experienced a V-bottom once every 1.6 years; meaning V-bottoms are a relatively rare event. Based primarily on the Fed "talking up stocks" every time a correction seemed to be unfolding, between March 2013 and December 2014, the S&P 500 experienced a V-bottom once every 2.1 months. This rare market behavior was difficult for any system that manages risk, including the market model.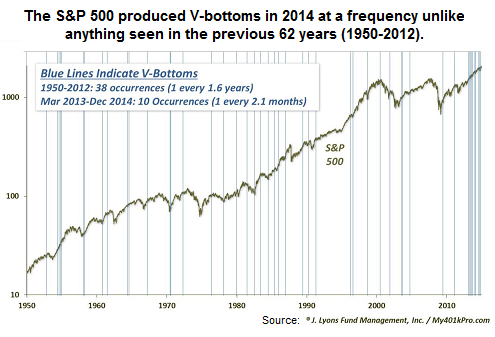 The issue in 2014 was the lack of a significant and sustained pullback in stocks (the Fed-assisted trends were very strong and bullish). Since our model uses trend-following concepts, it should have no problem dealing with a trend that is "too strong". Therefore, we did make some adjustments to the market model in late 2014/early 2015. Nothing needed to be changed conceptually; we simply needed to adjust the model's weightings relative to various timeframes.
2015: Hardest Year Since 1938
If you are familiar with our weekly videos, you know the market model is an asset allocation model. 2015 was the worst year for asset allocation funds since 1938, as outlined in this Bloomberg article. Typically, when stocks end the year down fractionally, some other asset class offers a place to hide (bonds, gold, oil, etc). That was not the case in 2015 and hence the reason Bloomberg used the title "2015: The Year Nothing Worked". The market model performed as expected and as designed in 2015. The model's performance in 2015 is covered in detail in this video clip.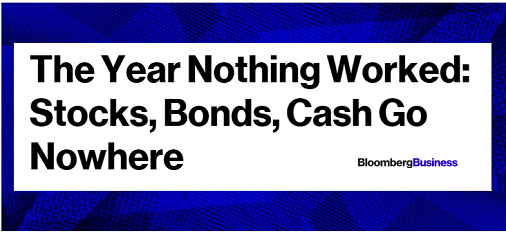 It should also be noted that when trends re-emerge, underperformance can be made up relatively quickly as described in this 2016 video clip.