Submodels:
Portfolio Models:

As independent money managers, we provide long-term wealth & estate preservation strategies and prudent investment advice in a challenging environment for investors. If you are looking for an asset manager or money manager who takes the time to understand your personal situation, Ciovacco Capital Management may be a good fit for you.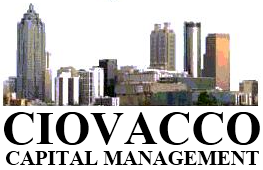 Independent Financial Advisor Atlanta - Nationwide Service
As an independent financial advisor, Ciovacco Capital Management can focus solely on doing what is best for the client and the advisor - helping your assets grow. Independence is important since there are no business relationships that may cause a potential conflict of interest, such as a financial incentive to recommend a particular family of mutual funds or an IPO. When looking at financial advisors in Atlanta, take a hard look at CCM. We offer service to clients nationwide.

Ciovacco Capital Management, LLC is an independent financial advisor based in Atlanta, Georgia. CCM helps individual investors, large & small, achieve improved investment results via research and globally diversified investment portfolios. Since we are a fee-based firm, our only objective is to help you protect and grow your assets. Our long-term, theme-oriented approach allows for portfolio rebalancing from time to time to adjust to new opportunities or changing market conditions.
Christopher G. Ciovacco, Chief Investment Officer
In order to concentrate solely on long-term prudent investing and financial advice, Chris Ciovacco resigned from his post as a Financial Advisor with Morgan Stanley in 1999. Ciovacco Capital Management was soon born as a nimble, and cost-efficient LLC (limited-liability corporation). By offering significantly reduced rates to his clientele, and improved accessibility and service, Ciovacco Capital Management was able to build a sound asset base very rapidly. If you are looking for an independent money manager or financial advisor, our firm is worth a look.

Chris worked as a Financial Advisor for Morgan Stanley in Atlanta for 6 years earning a strong reputation for his independent research and high integrity. Morgan Stanley gave Chris the opportunity to gain some valuable experience in evaluating stocks, bonds, mutual funds, options, commodities, insurance, estate & tax planning strategies, and retirement planning. We offer service to clients nationwide.

Map & Location Info - CLICK HERE
Independent Financial Advisor Atlanta, GA
According to kudzu.com, How to choose a financial advisor in Atlanta: The National Association of Personal Financial Advisors has developed a questionnaire for use when interviewing financial advisors. Read profiles of financial advisors in Atlanta before setting up a meeting. When choosing a financial advisor, consider (1) References. Ask the advisor for names and numbers of current clients who can talk with you about their experiences, (2) Compensation. How is the advisor's fee calculated? Some examples are fee only; commission from securities, insurance or other products clients buy; and hourly rate or fee offset, which means charging a flat fee against which commissions are offset, (3) Service types. Financial advisors provide a wide range of services, including budgeting and management, setting goals, insurance and product needs, and retirement planning. Be sure to match your needs with the advisor's expertise. The bottom line: You must be able to trust your financial advisor. He or she may have the right pieces of paper to show qualification, but don't be discouraged if it takes you a few interviews with a few different advisors to find one that fits your needs and personality.