Home
Submodels:
Portfolio Models:

As independent money managers, we provide long-term wealth & estate preservation strategies and prudent investment advice in a challenging environment for investors. If you are looking for an asset manager or money manager who takes the time to understand your personal situation, Ciovacco Capital Management may be a good fit for you.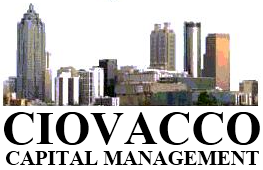 Financial Planner Atlanta - Nationwide Service - Independent Advice

Helping You Build A Comprehensive Financial Plan: In order to better understand the needs of each new client, we like to create a detailed long-term financial plan. This comprehensive financial plan takes into account all the significant factors that are relevant to long-term financial success, including mortality projections, current and future income, taxes, investments, other assets, real estate, Social Security benefits, pensions, 401(k)s, IRAs, inflation, etc. When looking for Financial Planners in Atlanta, take a hard look at CCM. We offer service to clients nationwide.
Click here to see Chris Ciovacco's recent commentary on financial planning and investing.
Finding A Financial Planner In Atlanta
Here is an article from the Atlanta Business Chronicle "Be selective when choosing a financial planner". In this article, the Atlanta Business Chronicle also outlines some questions to ask and pitfalls to avoid when finding a financial planner in Atlanta
If You Want To Become A Financial Planner
If you are looking to become a Financial Planner in Atlanta, Mercer University may be able to help you via the Office Of Student Financial Planning. Emory also offers a certificate in financial planning.

Map & Location Info - CLICK HERE
Independent Financial Planner, Atlanta, GA