Download PDF Version - Entire Series
Rebalancing Multiple Asset Class Portfolios:
Investment and Asset Allocation Strategies for
Inflation, a Weak U.S. Dollar, and Principal Protection

By Chris Ciovacco
Ciovacco Capital Management
January 2008
CCM Rebalancing Model: Incremental Shifts to Capture Long-Term Trends
A simple example can illustrate the basic concepts behind the CCM Rebalancing Model, which is used periodically to adjust the client's CCM Current Allocation. Assume you began investing in 1970. You talked to three advisors one who said "put your money in stocks", another who said "put your money in bonds", and a third who said "put your money in commodities". Since you had conflicting advice, you decided to place 33% of your portfolio in stocks, 33% in bonds, and 34% in commodities. Every six months, you stack ranked the performance of the three asset classes and made relatively small adjustments to your allocation based on performance. The performance in the first six months was commodities up 3%, stocks up 2%, and bonds down 2%. You decided to reallocate your portfolio to 37% commodities, 35% stocks, and 27% bonds. You reduced exposure to the weaker asset class (bonds) and increased exposure to the stronger asset classes (stocks and commodities). The reason you decided to make small incremental shifts was to avoid overreacting to what may turn out to be a short-term trend.

Assuming you had used this incremental rebalancing strategy every six months based on the relative performance of the three asset classes, you would have been over weighted in commodities, and underweighted in stocks and bonds from 1970-1982. In 1982, you would have begun to shift your allocation away from commodities and toward stocks and bonds. When the stock market topped in March of 2000, you would have had a large percentage of your portfolio in stocks, a moderate allocation to bonds, and almost no exposure to commodities. After the dot-com bubble began to burst in the 2nd half of 2000, you would have started reducing your allocation in stocks and increasing your allocation to bonds and commodities. After the stock market bottomed in October of 2002, you would have begun migrating some of your bond allocation to stocks.

Unbelievably, there have only been three major shifts in asset class leadership since 1970:
1970-1982: Commodities lead - Stocks and Bonds Lag

1982-2000: Stocks and Bonds Lead - Commodities Lag - Shift One

2000-2002: Commodities and Bonds Lead - Stocks Lag - Shift Two

2002-2007: Commodities and Stock Lead - Bonds Lag - Shift Three
In order to avoid being shaken out of a winning asset class during sharp corrections in an ongoing bull market, the rebalancing strategy makes incremental asset allocation shifts, which are proportional to the magnitude of gains and losses being experienced. If an asset class is experiencing large losses, the magnitude of the incremental shifts would be increased. If the losses in the asset class are relatively small, the incremental shifts would be smaller in magnitude.
The stock market crash in 1987 did not signal the end of the 1982-2000 bull market in stocks. Therefore, a wholesale shift away from stocks into bonds in the fall of 1987 would have been a mistake in the context of the long-term up trend for stocks. Therefore, if an investor would have shifted 10% of their assets from stocks to bonds as the first incremental shift late in 1987, they would still have kept enough exposure to stocks to continue participating in what turned out to be a continuing bull market. However, in March of 2000, the first incremental shift away from stocks would have been the correct move and would have been followed by subsequent reductions in your stock allocation as the bear market continued. The CCM Rebalancing Strategy allows for some pain at major market tops since more often than not the first signs of weakness tend to be false alarms followed by a resumption of the current trends.
The Development of the CCM Rebalancing Model
The CCM Multiple Asset Class Approach to investing gives us a unique window into the financial markets. Since allocations include exposure to stocks, bonds, commodities, precious metals, timber, etc., we have one of the best economic forecasters built right into our portfolios. If we follow the relative movements of this wide variety of asset classes, we can garner some meaningful insight into the current, and possibly future, state of the world. Using an oversimplified example, assume you have just four asset classes; U.S. stocks, U.S. bonds, foreign stocks, and foreign bonds. In good economic times, the stocks should outperform the bonds. In less than ideal economic times, the bonds should outperform stocks or at least begin to close the return gap. The beauty of financial markets is they tend to perform based on anticipated future economic conditions vs. solely relying on current conditions. The skeptics in the crowd will counter, "Yeah, but what if the market is wrong?" From a risk management perspective, our multiple asset class strategy may offer some balance in the event that the market misreads the tea leaves in the short term, which it will from time to time. As you will see below, by focusing our attention on long, intermediate, and short-term asset class trends, we also have the ability to adjust to changing market conditions by rebalancing our portfolios based on three distinct time horizons.

To illustrate the financial market's ability to look forward, here is a statement taken directly from the Federal Reserve Bank of Philadelphia's website:
"The persistent strength in the U.S. economy continues to surprise forecasters; therefore, the survey's panelists are, again, revising upward their expectations for growth in real GDP in 2000. In the current quarter, the forecasters expect real GDP to grow at an annual rate of 4.2 percent, marking an upward revision of 1.1 percentage points from the previous survey's estimate of 3.1"
The statement above was posted by the Fed on May 22, 2000. The portion "the U.S. economy continues to surprise on the upside", means economic numbers published in April and early May 2000 were strong. On that basis, one might guess that May of 2000 must have been a good time to be in stocks.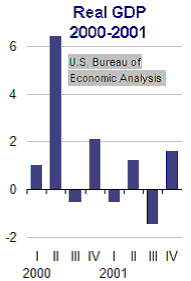 As we know in May of 2000, the financial markets were not as upbeat as the Fed or the recent economic numbers. The Dow had a topped four months earlier in January of 2000. The S&P 500 and the NASDAQ had also made major tops two months earlier in March of 2000. Was the market right? Soon after May of 2000, the U.S. entered a recession with three of the next five quarters posting negative GDP figures. Even as the FED made rosy economic statements in May of 2000, the major U.S. stock indices had already entered a bear market that would see the Dow fall 38%; the S&P 500 Index drop 49%, and the NASDAQ plummet 78%. 2002 would become a backbreaker for many investors. . Although this particular example is almost eight years old, it none-the-less reflects how the financial markets have historically reacted to the U.S. economy.
Using the daily prices (1995-2006) of all investments utilized in the CCM Multiple Asset Class Approach, the relative price movements of each investment/asset class were studied. The goal was to see if there was a meaningful, and more importantly useful, correlation between recent relative asset class performance and future performance. The basic premise of the study was to better understand how relative asset class past performance correlates to future performance as illustrated below.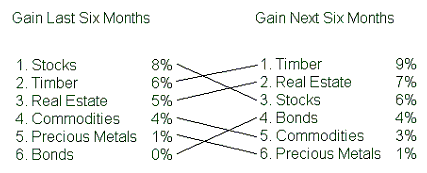 The study analyzed three separate correlations using three separate time periods as shown in the rectangles below.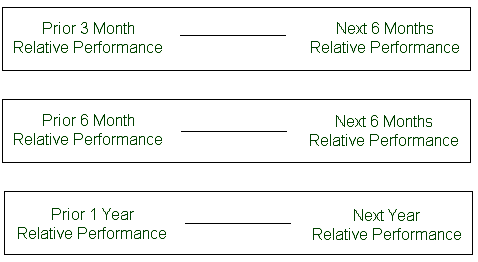 In order to capture both longer, intermediate, and shorter-term asset class trends in the real world, a simple average of the three-month, six-month, and one-year recommended allocations from the study is used to produce a single recommended asset allocation. To increase your confidence in the basic theory, it may be helpful to know that stock prices are one of the major components in the Conference Board's Leading Economic Indicators (LEIs), a widely used barometer of future economic activity. The CCM Rebalancing Model produces a recommended asset allocation for the next 6 to 12 months based on recent relative performance of the asset classes.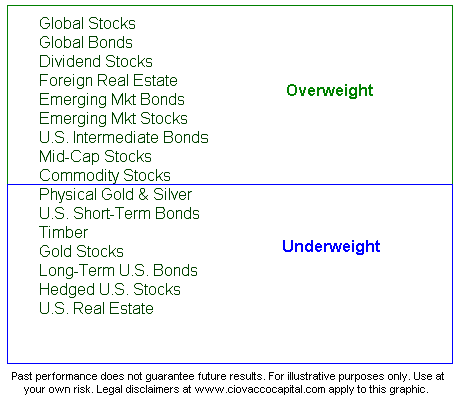 Risks and Limitations to the CCM Approach
While the CCM Multiple Asset Class Approach to investing can reduce risk from a historical and simulated perspective, it can by no means eliminate risk. Examining historical returns and simulating future returns is beneficial, but both rely on historical correlations between asset classes which change over time. Several factors have contributed to an environment where stocks, bonds, and commodities have all performed well from 2002-2007. This is an unusual situation which points toward changing correlations between asset class price movements. As a result, the risks in the current market are most likely higher than the historical data suggests. As asset managers, we must be prepared to adjust to an ever changing investment landscape. Obviously, investing in the asset markets will be difficult going forward for all participants, including those who utilize the CCM Multiple Asset Class Approach and models. However, the concepts presented here should help investors improve their odds of protecting and growing their assets on an inflation-adjusted basis. All market based investment portfolios are subject to principal loss, including a multiple asset class portfolio.
Links
Chris Ciovacco
Ciovacco Capital Management

---
Chris Ciovacco is the Chief Investment Officer for Ciovacco Capital Management, LLC. More on the web at www.ciovaccocapital.com

All material presented herein is believed to be reliable but we cannot attest to its accuracy. The information contained herein (including historical prices or values) has been obtained from sources that Ciovacco Capital Management (CCM) considers to be reliable; however, CCM makes any representation as to, or accepts any responsibility or liability for, the accuracy or completeness of the information contained herein or any decision made or action taken by you or any third party in reliance upon the data. Some results are derived using historical estimations from available data. Investment recommendations may change and readers are urged to check with tax advisors before making any investment decisions. Opinions expressed in these reports may change without prior notice. This memorandum is based on information available to the public. No representation is made that it is accurate or complete. This memorandum is not an offer to buy or sell or a solicitation of an offer to buy or sell the securities mentioned. The investments discussed or recommended in this report may be unsuitable for investors depending on their specific investment objectives and financial position. Past performance is not necessarily a guide to future performance. The price or value of the investments to which this report relates, either directly or indirectly, may fall or rise against the interest of investors. All prices and yields contained in this report are subject to change without notice. This information is based on hypothetical assumptions and is intended for illustrative purposes only. PAST PERFORMANCE DOES NOT GUARANTEE FUTURE RESULTS.