Home
Submodels:
Portfolio Models:

Ciovacco Capital Management, LLC is an independent financial planner based in Atlanta, Georgia. CCM helps individual investors, large & small; achieve improved investment results via research and globally diversified investment portfolios. Since we are a fee-based firm, our only objective is to help you protect and grow your assets. Our long-term, theme-oriented approach allows for portfolio rebalancing from time to time to adjust to new opportunities or changing market conditions. When looking for Financial Planners in Atlanta, take a hard look at CCM.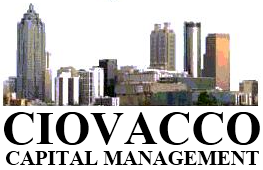 Atlanta Financial Planners - Ciovacco Capital Management

Ciovacco Capital Management, LLC is a financial planning firm based in Atlanta, Georgia. Chris Ciovacco, the firm's founder and principal, provides comprehensive financial planning services to a select group of families and individuals. Ciovacco Capital Management is in the business of helping clients protect and growth their hard earned wealth. Chris helps clients develop specific financial goals and then assists them in reaching those goals by providing advice in the areas of risk management and insurance, income tax planning, retirement planning, investments and estate planning. Since the firm operates on a fee-only basis and does not accept commissions, Chris' advice can remain completely objective.
HOME - More Information - Financial Planning Services
Financial Planners - From S.E.C.
According to the Securities and Exchange Commission, here are some insights when looking for Financial Planners in Atlanta:

"A financial planner typically prepares financial plans for his or her clients. The kinds of services financial planners offer can vary widely. Some planners assess every aspect of your financial life, including saving, investments, insurance, taxes, retirement, and estate planning, and help you develop a detailed strategy or financial plan for meeting all your financial goals. Other professionals call themselves financial planners, but they may only be able to recommend that you invest in a narrow range of products and sometimes products that aren't securities. When hiring a financial planner, you should know exactly what services you need, what services the planner can deliver, and any limitations on what he or she can recommend. In addition, you should understand what services you're paying for, how much those services cost, and how the planner gets paid. Financial planners charge for their services in different ways: some charge either a fixed fee or an hourly fee for the time it takes to develop a financial plan, but don't sell investment products; some are paid by commissions on the products they sell; and others use a combination of fees and commissions."

At Ciovacco Capital Management, we are happy to fully disclose how we are compensated and specifically what services we provide.

Helping You Build A Comprehensive Financial Plan: In order to better understand the needs of each new client, we like to create a detailed long-term financial plan. This comprehensive financial plan takes into account all the significant factors that are relevant to long-term financial success, including mortality projections, current and future income, taxes, investments, other assets, real estate, Social Security benefits, pensions, 401(k)s, IRAs, inflation, etc. When looking for Financial Planners in Atlanta, take a hard look at CCM. We offer service to clients nationwide.

Click here to see Chris Ciovacco's recent essays and commentary on financial planning and investing.
Finding A Financial Planner In Atlanta
Here is an article from the Atlanta Business Chronicle "Be selective when choosing a financial planner". In this article, the Atlanta Business Chronicle also outlines some questions to ask and pitfalls to avoid when finding a financial planner in Atlanta
If You Want To Become A Financial Planner
If you are looking to become a Financial Planner in Atlanta, Mercer University may be able to help you via the Office Of Student Financial Planning. Emory also offers a certificate in financial planning.

Ciovacco Capital Management, LLC is an independent financial planner based in Atlanta, Georgia. CCM helps individual investors, large & small; achieve improved investment results via research and globally diversified investment portfolios. Since we are a fee-based firm, our only objective is to help you protect and grow your assets. Our long-term, theme-oriented, buy-and-hold approach allows for portfolio rebalancing from time to time to adjust to new opportunities or changing market conditions.

Map & Location Info - CLICK HERE
Independent Financial Planner Atlanta, GA