Reflation Supported By Stocks, Commodities, and Oil
October 16, 2009
Last week in Gold, Recessions, Bonds, and 1987, we stated the following:
A major objective of all the money printing, government intervention, and low interest rates is to create positive inflation, which includes asset price inflation.

Asset inflation helps heal sick balance sheets and repairs a portion of the lost "wealth effect".

When gold lies dormant, it means reflation is not working all that well in the minds of market participants. Gold's recent breakout may indicate that in the minds of market particiapants reflation of assets is working. That mind set results from the fear of future inflation caused by money printing, intervention, etc.
Crude oil also can lend support to the relation case as market participants look for ways to protect purchasing power and profit from slowly improving fundamentals. Regardless of whether or not crude oil can hold the recent breakout as of the close Friday (10/15/09), the primary trend for oil will remain up.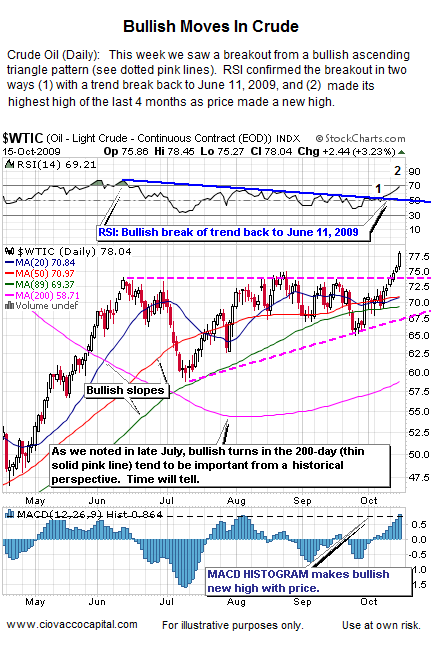 The CRB Index is a basket of commodities including, but not limited to, copper, sugar, heating oil, wheat, live cattle, crude oil, platinum, natural gas, and soybeans. The CRB Index also experienced a breakout this week contributing to bullish reflation trends evident across many markets.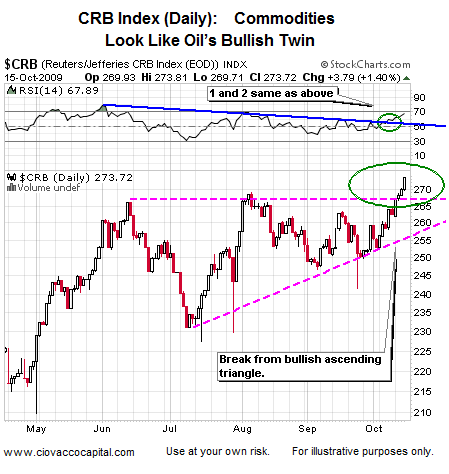 Stock Market Remains Healthy
On Friday, the S&P 500 will be trying to hold above its 89-week moving average (green line in chart below). As of Thursday's close the 89-week stood at 1,066.83. As you can see in the spring of 2008, the 89-week acted as resistance. A sustained break above 1,066 would provide some support for the current bull market (resistance becomes support).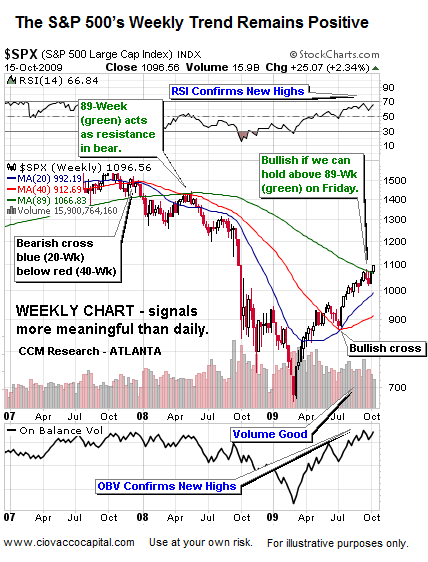 Expecting More Of The Same Also Involves Risk Management
We often say:
We will expect to see more of the same (bullish trends, higher highs, and normal corrections), until we see significant evidence to the contrary.
We did not become bullish earlier this year because we do not understand the problems of the day. The market became bullish. When we observed evidence contradicting the formally bearish trends, we became bullish. We remain bullish, but maintain a fairly high degree of uneasiness and skepticism regarding a sustained long-term bull market. We are concerned about valuations, especially if earnings do not materialize and as we move closer to 1,200 on the S&P 500. We are also concerned about banks and looming problems with commercial real estate. We are monitoring market sentiment looking for excessive acceptance of a new bull market. We are concerned about excess capacity throughout the economy (from hotel rooms in Vegas to condos in Miami). As a result, all markets need to be monitored closely. There is a fine line between staying with a profitable trend and ignoring clearly bearish signals. At the present time, we do not see many bearish signals, but in the long-run it pays to be aware of what could go wrong even while things are going right. For now, the bulls remain in control of almost all markets. We expect more of the same until we see something different (bullish trends, higher highs, and normal corrections).
Investments or strategies described above may be inappropriate for some investors based on their own individual situation and risk tolerance.
Chris Ciovacco
Ciovacco Capital Management

---
Chris Ciovacco is the Chief Investment Officer for Ciovacco Capital Management, LLC. More on the web at www.ciovaccocapital.com

All material presented herein is believed to be reliable but we cannot attest to its accuracy. The information contained herein (including historical prices or values) has been obtained from sources that Ciovacco Capital Management (CCM) considers to be reliable; however, CCM makes any representation as to, or accepts any responsibility or liability for, the accuracy or completeness of the information contained herein or any decision made or action taken by you or any third party in reliance upon the data. Some results are derived using historical estimations from available data. Investment recommendations may change and readers are urged to check with tax advisors before making any investment decisions. Opinions expressed in these reports may change without prior notice. This memorandum is based on information available to the public. No representation is made that it is accurate or complete. This memorandum is not an offer to buy or sell or a solicitation of an offer to buy or sell the securities mentioned. The investments discussed or recommended in this report may be unsuitable for investors depending on their specific investment objectives and financial position. Past performance is not necessarily a guide to future performance. The price or value of the investments to which this report relates, either directly or indirectly, may fall or rise against the interest of investors. All prices and yields contained in this report are subject to change without notice. This information is based on hypothetical assumptions and is intended for illustrative purposes only. PAST PERFORMANCE DOES NOT GUARANTEE FUTURE RESULTS.