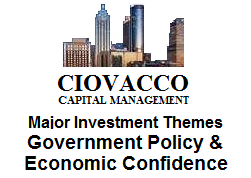 Links to Articles & Research:
Recessions breed low levels of confidence at both the business and consumer level. Beginning with the basis that perception is reality, there are many who believe recent policy changes and anti-business rhetoric coming from Washington are undermining confidence. From the Wall Street Journal:
What is confidence and why is it missing? The concept seems to be driving Treasury Secretary Timothy Geithner crazy this summer. You can hear that when you listen to him talk about the poor quality of the current recovery. Last week, on PBS's "NewsHour," for example, he said the administration was working hard to restore "a basic sense of confidence to American businesses and American families."
Mr. Geithner is gradually discovering that to recover, the market needs a specific kind of confidence. It is not something Washington can hand down. It is not even demand confidence; the confidence of the consumer who wants to shop. The confidence relevant to recovery is the confidence of the investor and the saver. It comes only when an administration in Washington demonstrates reliability and restraint. (Full Article).