Home

CCM Market Update - Public Version
Oversold and Near Support - Reasons To Remain Patient
May 21, 2010
Below are excerpts from a CCM Client Update emailed to clients prior to the market's open on Friday, May 21, 2010. These excerpts are presented for illustrative purposes only and the contents may not apply to many investors based on their age, situation, and risk tolerance. Please see the disclaimers on the bottom of this page.
On February 1, 2010, just days before the end of the last correction in stocks, we presented charts of numerous markets along with the text below. The comments below, from early February 2010, apply to the current correction just as they did during the last correction. The message in February 2010 was to be patient; it remains important today.
We understand that last week was stressful for all of us. Markets are uncertain. Uncertainty increases fear. One way to reduce fear in uncertain times is to get a better understanding of the environment that is the source of our fear.

The term support refers to price levels where buying has taken place in the past. These levels, in the minds of investors, have represented good entry points for a particular position. When a market reaches support during a correction, the probability of a reversal increases. Over the weekend, we reviewed daily, weekly, and monthly charts of all our holdings looking for past areas of support. Some of the support levels shown on the graphs below (see horizontal lines) go back ten to fifteen years. Markets have good memories.

The term oversold refers to a condition where sellers may be nearing a point of exhaustion. Markets can continue to decline from oversold levels, but the odds of a reversal increase from an oversold condition. The odds of a reversal increase even further when an oversold market is also nearing areas of support.
Three trading days after we made the comments above, the market found a bottom on 02/05/2010 and gained 16.7% in the next 11 weeks.
Current Day Charts - Similar Concepts
Levels of past support are shown on daily, weekly, and monthly charts below. Weekly and monthly support tends to be stronger than daily support. All charts are as of Thursday night (5/20/2010).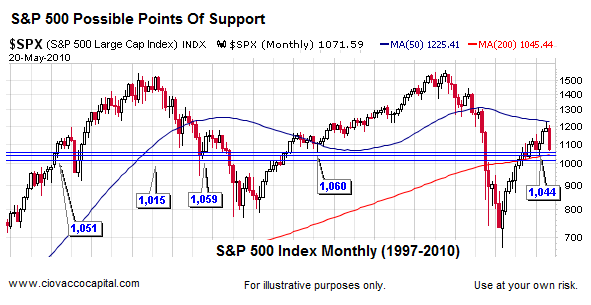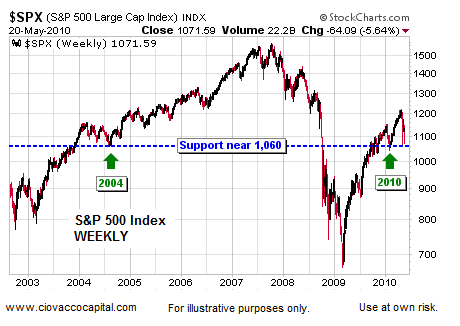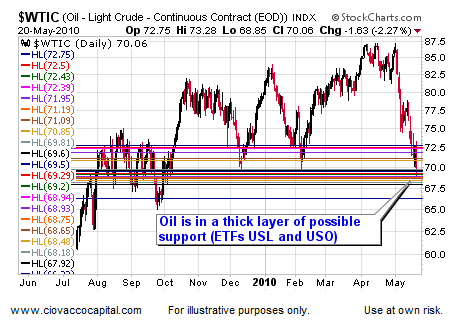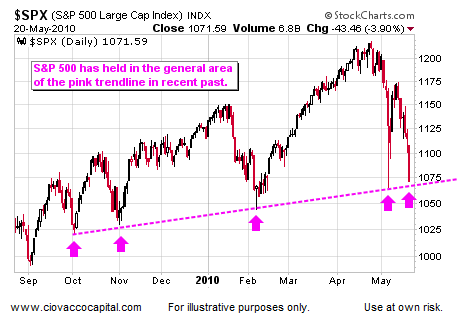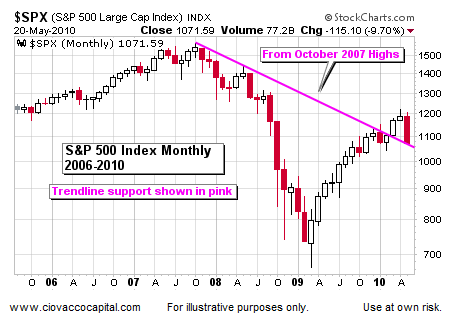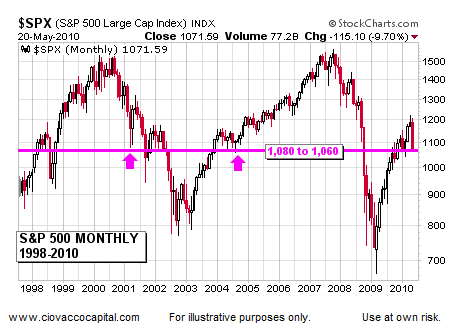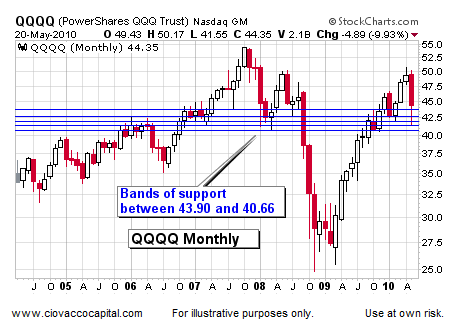 Fear May Be Nearing A Peak
Fear is a contrary indicator. Extreme levels of fear can mark turning points during corrections. The Volatility Index or VIX is a way to gauge fear using the buying habits of investors in the options market. When the VIX spiked higher on Thursday (05/20/2010), numerous indicators formed negative divergences (see red arrows). The divergences may mean the high level of fear in the markets is ready to subside, which may be accompanied by a rally in risk assets.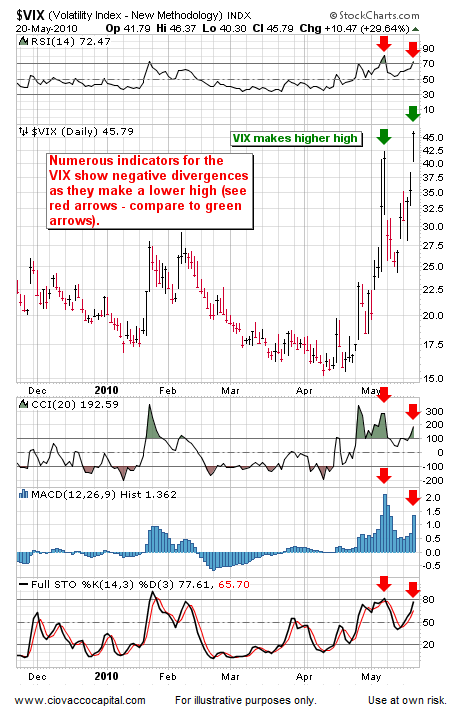 Short-Term Divergences May Mean Bottom Is Approaching
The VIX has negative divergences that may signal a short-term peak is around the corner in terms of investor fear. Numerous risk asset markets have positive divergences on a daily chart, which supports the possibility of a near-term abatement to the selling.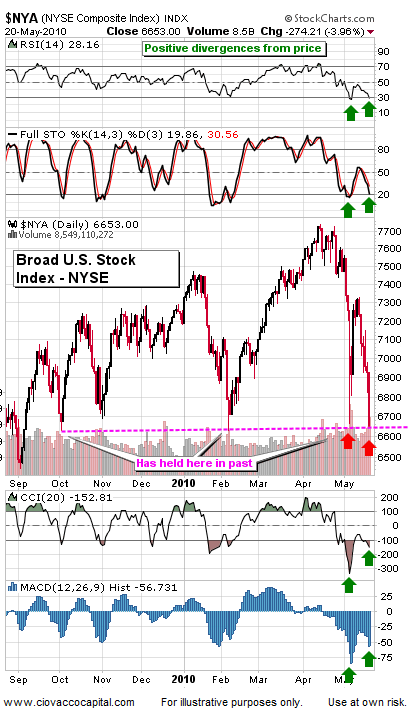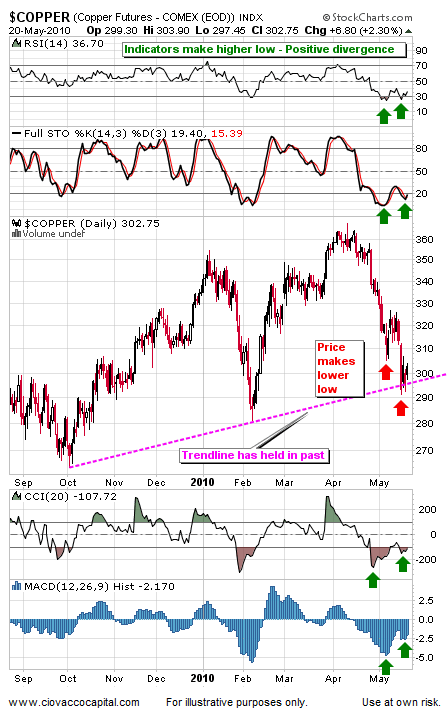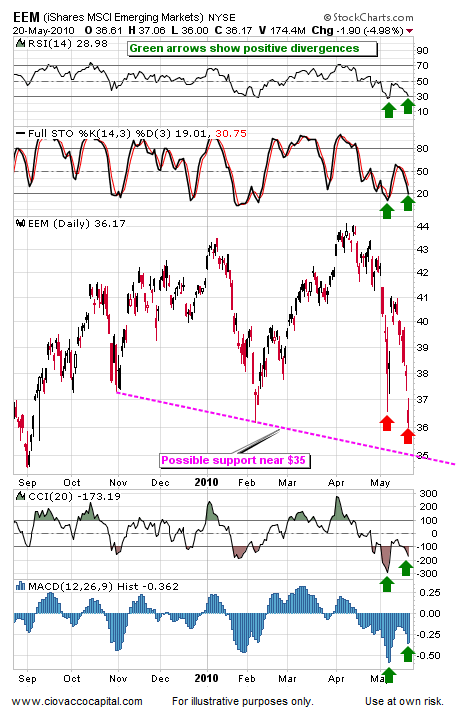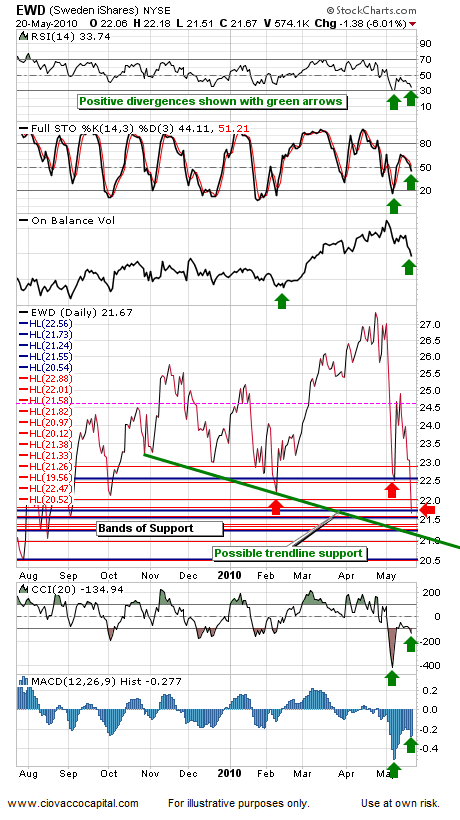 Other Possible Areas Of Price Support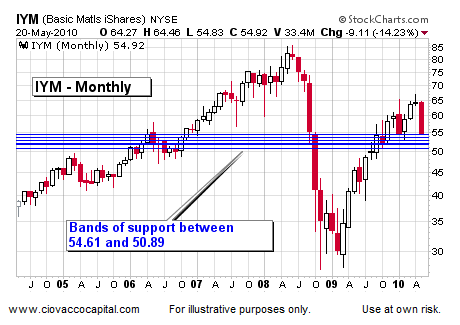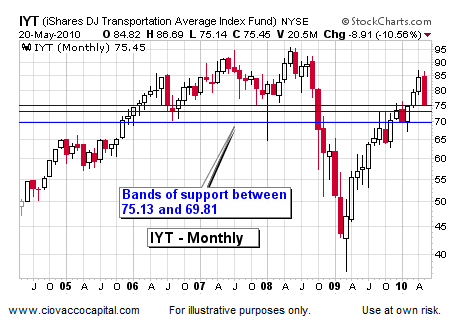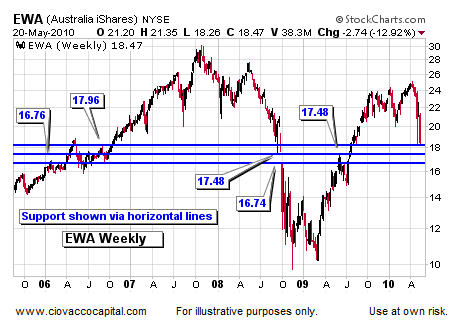 Short Takes Offers More Facts Supporting Patience
If you review (with an open mind) some of the recent facts posted in Short Takes (link below), concerning the current and historical market corrections, it may help ease the temptation to make decisions based on short-term volatility and fear. When reviewing comments about the CCM Bull Market Sustainability Index (CCM BMSI), keep in mind the index was created to help differentiate between corrections within an ongoing bull market and the onset of a new bear market. Since the future is uncertain, we must deal in probabilities. The probabilities, based on the facts, support the case that the current correction is just that, a correction within the context of an ongoing bull market, which means the odds favor higher highs in stocks being made at some point in the not-too-distant future (next several months). The CCM BMSI was developed based on detailed studies of 56 corrections and/or shifts into a bear market; we can assure you the current correction is not all that unique within the context of market history. During past corrections, the problems of the day seemed serious and insurmountable as they do today. The fundamental concerns that lead to corrections are always significant; the present day is not unique in that regard. We do respect the potential seriousness of the debt problems around the globe, and thus, will continue to monitor the situation closely. Short Takes also provides some insight from other voices concerning the current disconcerting volatility in risk assets. Asset markets may remain weak for a while longer and lower lows are a possibility. Corrections can take weeks or months to unfold; the one thing they have in common is stocks eventually go on to surpass their previous highs.

The additional comments mentioned above can be found in Short Takes (see entries from roughly May 7, 2010 to May 20, 2010).

Chris Ciovacco
Ciovacco Capital Management

---
Chris Ciovacco is the Chief Investment Officer for Ciovacco Capital Management, LLC. More on the web at www.ciovaccocapital.com

Terms of Use. The charts and comments are only the author's view of market activity and aren't recommendations to buy or sell any security. Market sectors and related ETFs are selected based on his opinion as to their importance in providing the viewer a comprehensive summary of market conditions for the featured period. Chart annotations aren't predictive of any future market action rather they only demonstrate the author's opinion as to a range of possibilities going forward. All material presented herein is believed to be reliable but we cannot attest to its accuracy. The information contained herein (including historical prices or values) has been obtained from sources that Ciovacco Capital Management (CCM) considers to be reliable; however, CCM makes no representation as to, or accepts any responsibility or liability for, the accuracy or completeness of the information contained herein or any decision made or action taken by you or any third party in reliance upon the data. Some results are derived using historical estimations from available data. Investment recommendations may change and readers are urged to check with tax advisors before making any investment decisions. Opinions expressed in these reports may change without prior notice. This memorandum is based on information available to the public. No representation is made that it is accurate or complete. This memorandum is not an offer to buy or sell or a solicitation of an offer to buy or sell the securities mentioned. The investments discussed or recommended in this report may be unsuitable for investors depending on their specific investment objectives and financial position. Past performance is not necessarily a guide to future performance. The price or value of the investments to which this report relates, either directly or indirectly, may fall or rise against the interest of investors. All prices and yields contained in this report are subject to change without notice. This information is based on hypothetical assumptions and is intended for illustrative purposes only. PAST PERFORMANCE DOES NOT GUARANTEE FUTURE RESULTS.