Does The Government / Fed Print Money?
By Chris Ciovacco
Ciovacco Capital Management
ATLANTA
Inflation: The Federal Reserve Can Create Money (a.k.a. Print Money)
Many Americans find it hard to believe the Fed can create money out of thin air. They can and based on Fed statements, they will continue to do it. When they create new dollars, the basic laws of supply and demand tell us they are devaluating the dollars we currently hold. More dollars (demand) chasing a relatively stable amount of goods (supply) will eventually lead to higher prices. As prices go up, the buying power of your dollars goes down. As of late 2008, we remain in a deflationary cycle for asset prices, so price inflation in the general economy will take time to surface (maybe years if things get really bad). For those of you who are skeptical of whether or not the Fed prints money, below are excerpts from recent articles from well known news organizations. It is no longer taboo to talk about money printing.
The dollar has given back about half of a rally in which it advanced 24 percent from a low of 71.314 on July 15 to 88.463 on Nov. 21. "This is very much a panic exodus from the dollar," said Brian Dolan, chief currency strategist at FOREX.com, a unit of online currency trading firm Gain Capital in Bedminster, New Jersey. "The primary reason is the Fed's embrace of quantitative easing, in which they start printing dollars and start flooding the market with U.S. assets."

Bloomberg, December 18, 2008

What's more important now is the Federal Reserve's efforts to reflate the economy, which Paul Kasriel, director of economic research at Northern Trust, notes is running at a rate that surpasses that of the Great Depression. "The rate at which the Fed has been increasing bank reserves is ten times that at which it was doing so in 1934," he writes. "The year-over-year increase in bank reserves was 603.6% in November 2008." This, he says, is going to head off the recent figures - such as the 10% decline in commodities for the two months ended November, the sharpest decline in history as the Fed continues to print money. Additional government spending, along with the Fed's efforts to buy debt, will limit deflation, before long.

Wall Street Journal, December 15, 2008

If the Federal Reserve's decision to cut its benchmark overnight rate to a range of 0 percent to 0.25 percent this week and its stated intention to use "all available tools" to keep its "balance sheet at a high level" are any guide, the Fed will be "monetizing the debt," which is how we in the developed world refer to the crass act of printing money.

Bloomberg, December 18, 2008

"The Fed is sending a message that it will print money to an unlimited extent until it starts to see the economy expanding," William Poole, former president of the St. Louis Fed and now a senior fellow at the Cato Institute in Washington.

Bloomberg, December 12, 2008

The U.S. Federal Reserve could have done what it did on Tuesday night - slashing U.S. interest rates to absolute zero and announcing that it would print money without limit - two months ago, when the collapse of Fannie Mae and Lehman Brothers turned a localized financial problem into a life-threatening convulsion threatening the entire global economy.

Times Online, U.K., December 18, 2008

Besides mortgage-backed securities and asset-backed securities, the Fed will purchase Treasuries, corporate paper and even stocks to provide much needed cash, predicted Ashworth. "The Fed's only option is effectively to 'print money' by crediting the reserve balances held by commercial banks at the central bank," Ashworth also said. Buying Treasuries would be the biggest weapon that hasn't been deployed yet, as such a policy means the Treasury could pump into the economy as much cash as it needs. "There's no limit to the amount of money that the Fed can print and Congress can spend," Ashworth said. But for some, that's a scary thought, as the amount of U.S. government debt is already staggering. "Nobody really knows how these policies will work out," Stoeferle said. "If it were another country, the U.S. should probably declare bankruptcy."

CNBC, December 16, 2008

The move sends a message that the Federal Reserve and the Treasury Department would print as much money as needed to revive the nation's crippled banking system.

New York Times, November 25, 2008
Markets Reacted Swiftly To Fed's Announcement
The U.S. dollar's rally from the July 2008 lows may be over. As the Fed runs the printing presses at full capacity, global investors are starting to think twice about holding the U.S. dollar. The charts below show moves in several markets related to the Fed's actions.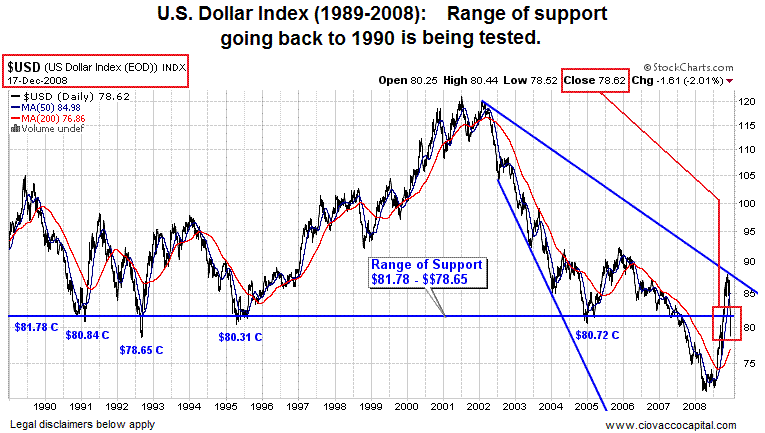 Expanded & Full Version of 2009 Themes and Outlook
More Articles From Ciovacco Capital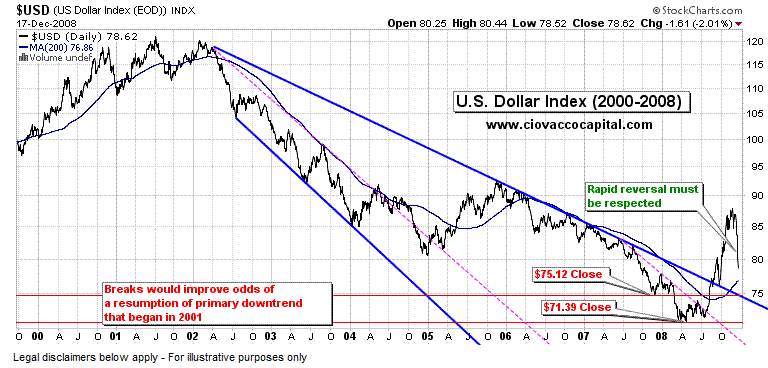 The Euro Reverses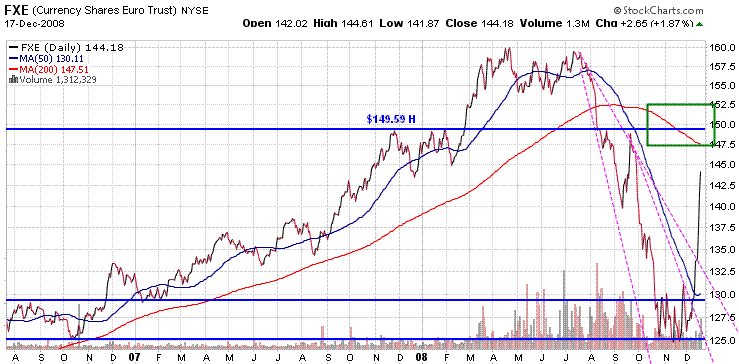 Swiss Franc Makes a U-Turn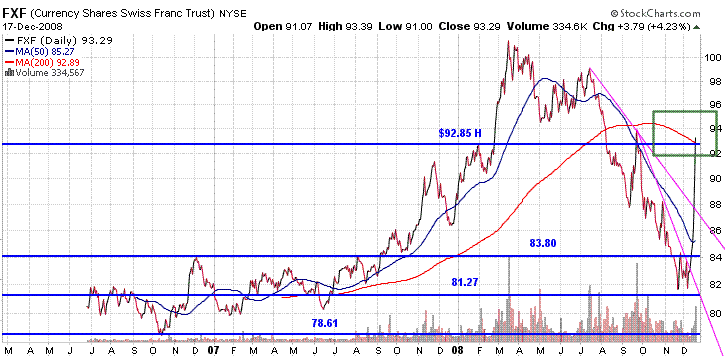 Gold ETF Tries to Break Downtrend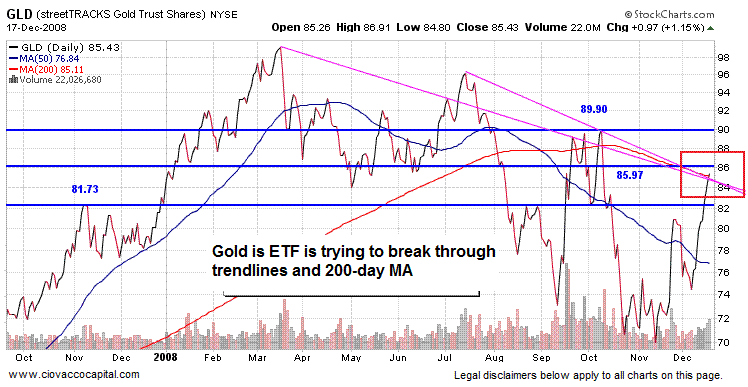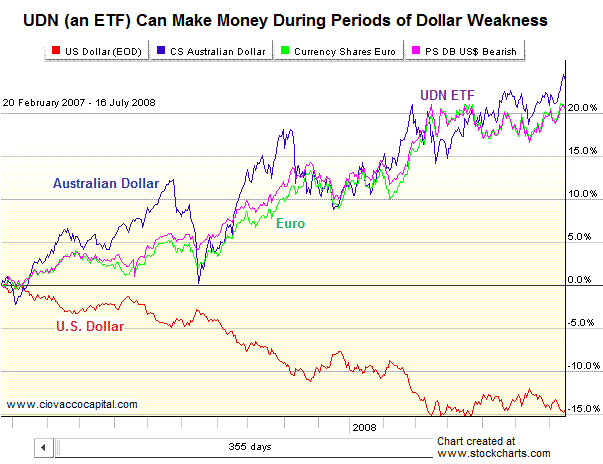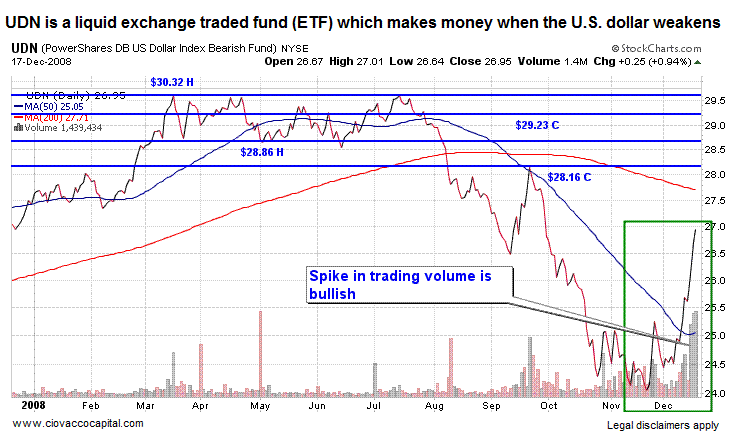 Chris Ciovacco
Ciovacco Capital Management

---
Chris Ciovacco is the Chief Investment Officer for Ciovacco Capital Management, LLC. More on the web at www.ciovaccocapital.com

All material presented herein is believed to be reliable but we cannot attest to its accuracy. The information contained herein (including historical prices or values) has been obtained from sources that Ciovacco Capital Management (CCM) considers to be reliable; however, CCM makes any representation as to, or accepts any responsibility or liability for, the accuracy or completeness of the information contained herein or any decision made or action taken by you or any third party in reliance upon the data. Some results are derived using historical estimations from available data. Investment recommendations may change and readers are urged to check with tax advisors before making any investment decisions. Opinions expressed in these reports may change without prior notice. This memorandum is based on information available to the public. No representation is made that it is accurate or complete. This memorandum is not an offer to buy or sell or a solicitation of an offer to buy or sell the securities mentioned. The investments discussed or recommended in this report may be unsuitable for investors depending on their specific investment objectives and financial position. Past performance is not necessarily a guide to future performance. The price or value of the investments to which this report relates, either directly or indirectly, may fall or rise against the interest of investors. All prices and yields contained in this report are subject to change without notice. This information is based on hypothetical assumptions and is intended for illustrative purposes only. PAST PERFORMANCE DOES NOT GUARANTEE FUTURE RESULTS.