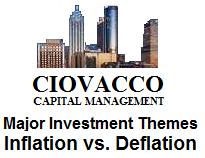 Battle Between Inflation and Deflation Must Be Monitored
The global economy has inflationary and deflationary forces butting heads. The pressures on the side of inflation include low interest rates and massive amounts of liquidity in the banking system. The forces related to deflation are high levels of debt and banks that are hesitant to lend. How this battle plays out is important to investors. Attractive investments in an inflationary environment are almost polar opposites of those in a deflationary environment. Both camps have strong arguments but, for numerous reasons, the Fed would much prefer inflation over deflation. The deflation scenario needs to be respected, but the Fed will not remain on the sidelines if asset prices continue to fall. Our job, as money managers, is to monitor the situation with an open mind, having plans in place for both inflation and deflation.
The chart below was created on the website of the Federal Reserve Bank of St. Louis. It shows the eye-popping expansion of the money supply as financial institutions swapped securities and other "assets" for cash via borrowing from the Federal Reserve. Borrowing prior to 2007-2008 crisis is barely visible on the graph. Recent borrowing is an extreme example of the term "spike" on a graph.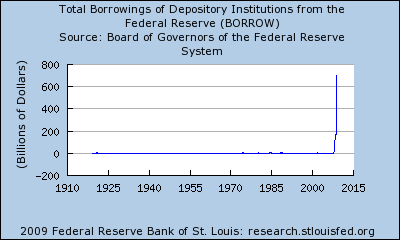 Fed's Options in a Zero Rate Environment
At a time when interest rates are near historic lows around the globe, it is important to understand possible nontraditional ways for policymakers to fight deflation. These
2002 comments made by then Fed Governor Ben Bernanke
outline in detail Federal Reserve options in a low interest rate environment. It may help us better understand the possible range of Fed actions in the next 24 months.
Links to Articles & Research On The Expansion of the Money Supply