Bear Markets Tend To Retest Lows
By Chris Ciovacco
Visit and Bookmark CCM Short Takes - Updated Regularly
October 13, 2008
Easy and Neat Bottoms Not The Norm
The stock market never makes it easy for investors. Many are hoping Friday marked a nice neat end to the current bear market. While only time will tell, history suggests any stock market low will most likely be marked by volatility and frustration. The following three charts show major stock market bottoms in 1975, 1987, and 2002. In each case, the initial attempt at a market bottom was at least retested in the subsequent months. Given the uncertainty in today's credit markets and economic outlook, it would not be surprising to see "the bottom" made over time rather than in one neat V shape. The historical bottoms from 1975, 1987, and 2002 support a gradual and skeptical approach to investing in stocks. In the chart below, note the strong trading volume on the first low (spike in bar chart).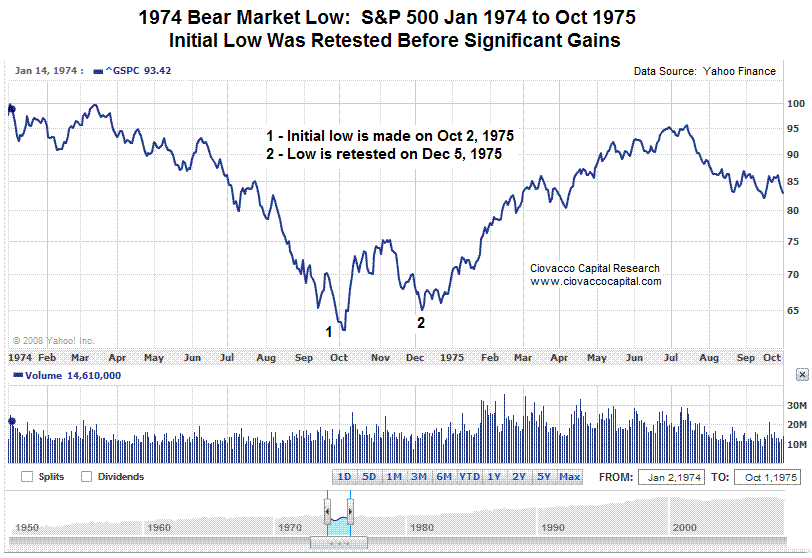 1987 Crash Quotes
"The borrowing has to stop. The market slide was a shot right between the eyes that had better wake us all up to simple fact that we can't keep romping forever on borrowed money."
Lee Iacocca, Chrysler Corp Chairman, October 20, 1987
"The market is sending an unequivocal message to the President and the Congress to stop the political games and agree on a Federal deficit-reduction plan."
Representatvie Dan Rostenkowski, Democrat, October 20, 1987
"What do you expect us to do? Annouce that all the Cabinet members will be buying IBM and General Motors tommorrow?"
Exasperated Administration official, New York Times, October 20, 1987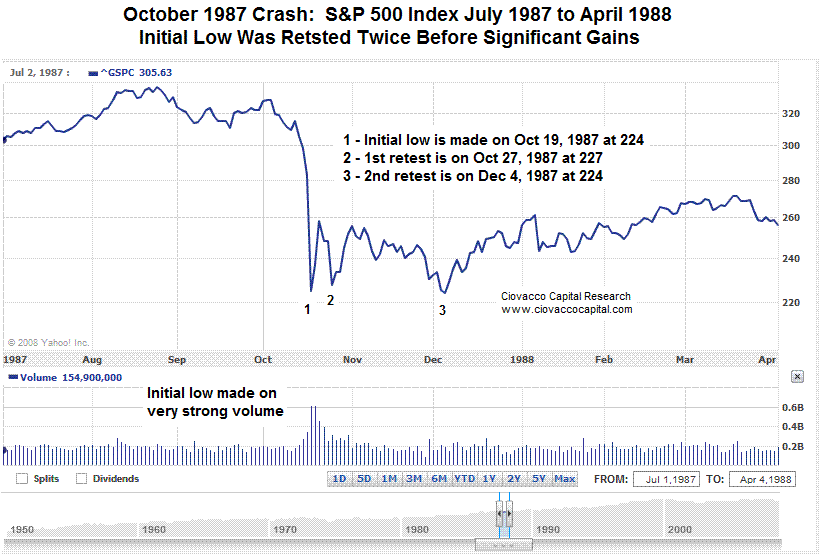 Similar to 1975 and 1987, the "bottom" of the 2000-2003 bear market was more of a process than one particular day. In the chart below, note the strong trading volume on the first low.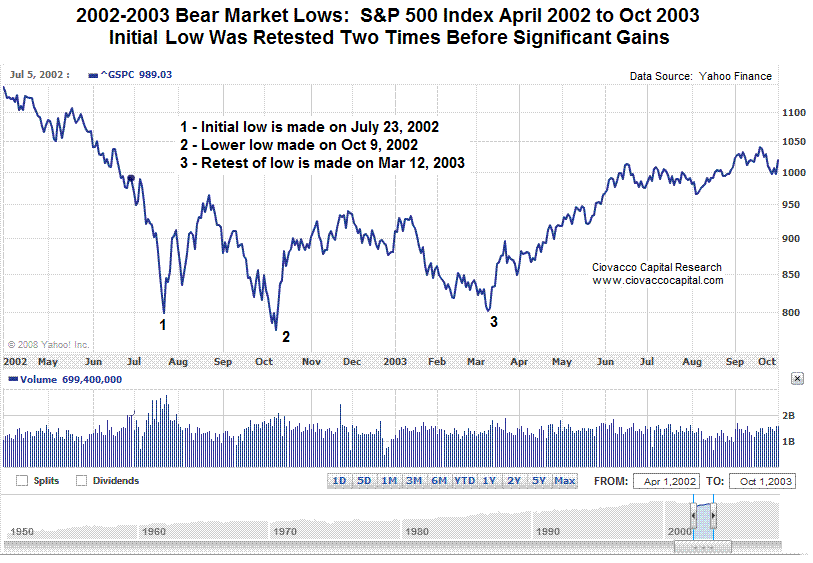 2008 - Monday's Gains - The Bad News: Weak Volume
Monday's (10/13/08) overdue rebound in stocks was impressive. However, trading volume was light across the board which is not what we would expect at a meaningful low. Monday was a bank holiday, so maybe we can see some big volume later this week. The charts below show (a) the end of the 2000-2003 bear market and (b) Monday's action.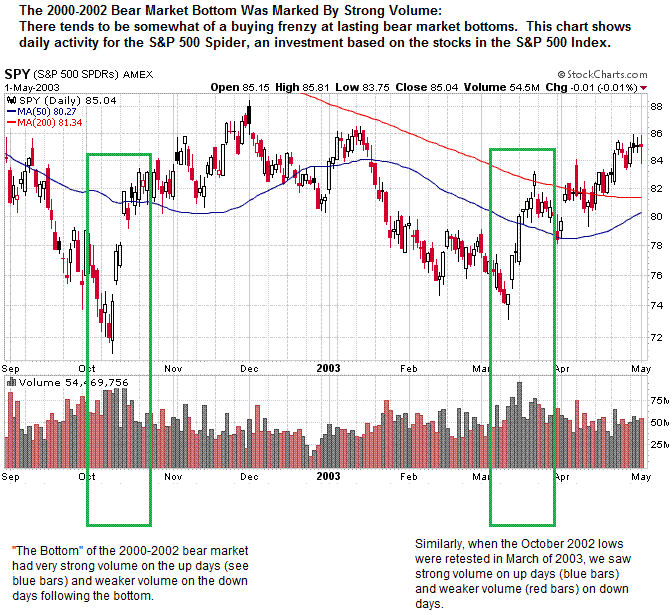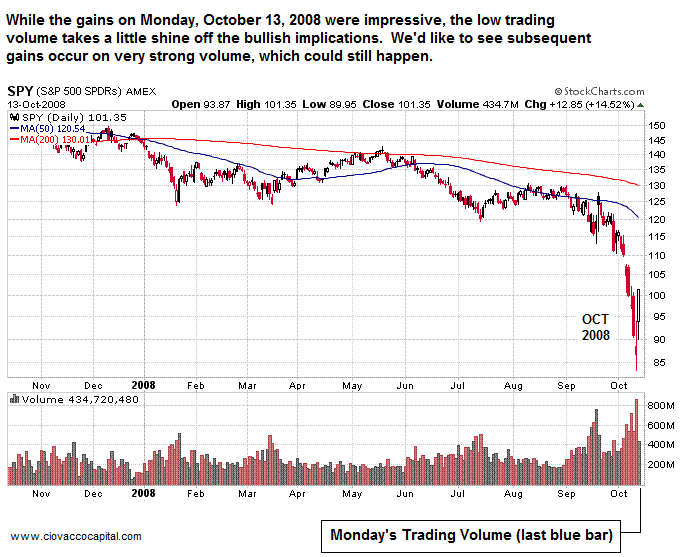 Monday's Gains - The Good News: 9-to-1 Day
While volume was disappointing, at least the vast majority of volume was related to stocks that rose in price. Monday was a 9-to-1 up day, which can be bullish, especially if we see another 9-to-1 up day in the next few days or weeks. More detail can be found in this MarketWatch article, Nine to One.
Fundamental Reasons To Tread Carefully
Financial firms are still highly leveraged

Government's injection into banks is small realtive to risk exposure in system

Credit Default Swaps (CDS) market remains a major problem

Bailouts do not help insurance companies which are regulated by states

Housing inventories remain high and prices continue to fall
Recent bailouts do help address some of the issues, but not all of the issues. Paying attention and keeping an open mind to both positive and negative outcomes remains important. We still face negative GDP numbers in the months ahead. Fear pushed people out of stocks. Fear of missing the "bottom" can push them back in without too much consideration of the bigger picture. Capital should be redeployed slowly and cautiously.
Chris Ciovacco
Ciovacco Capital Management

---
Chris Ciovacco is the Chief Investment Officer for Ciovacco Capital Management, LLC. More on the web at www.ciovaccocapital.com

All material presented herein is believed to be reliable but we cannot attest to its accuracy. The information contained herein (including historical prices or values) has been obtained from sources that Ciovacco Capital Management (CCM) considers to be reliable; however, CCM makes any representation as to, or accepts any responsibility or liability for, the accuracy or completeness of the information contained herein or any decision made or action taken by you or any third party in reliance upon the data. Some results are derived using historical estimations from available data. Investment recommendations may change and readers are urged to check with tax advisors before making any investment decisions. Opinions expressed in these reports may change without prior notice. This memorandum is based on information available to the public. No representation is made that it is accurate or complete. This memorandum is not an offer to buy or sell or a solicitation of an offer to buy or sell the securities mentioned. The investments discussed or recommended in this report may be unsuitable for investors depending on their specific investment objectives and financial position. Past performance is not necessarily a guide to future performance. The price or value of the investments to which this report relates, either directly or indirectly, may fall or rise against the interest of investors. All prices and yields contained in this report are subject to change without notice. This information is based on hypothetical assumptions and is intended for illustrative purposes only. PAST PERFORMANCE DOES NOT GUARANTEE FUTURE RESULTS.