Reflation: Deja Vu All Over Again?
March 24, 2009
As of 9:40 am EDT today, the S&P 500 remains down 10% YTD, even AFTER the recent gains. One day, one week, or one month will not dictate whether we are successful this year or thereafter. We will not be on the right side of the market every day, every week, or every month - the important thing is that we capture long-term fundamental and technical trends - trends which take time to develop, identify, and take advantage of. If new bull markets have started, we will participate. While big countertrend rallies are frustrating, if we remain patient and stick to our disciplined approach, we should be fine.
It is possible we are experiencing a Yogi Berra (former Yankee catcher) moment reminiscent of his observation, "This is like deja vu all over again." We all know the government is trying to reinflate asset prices with money printing, leverage, and bailouts. While stocks may not be out of the woods yet, yesterday's move through 806 on the S&P 500 sends a signal the markets are paying attention to all the "liquidity facilities". Since all of the gains from the 2002-2007 bull market were fully retraced, you can make a simplistic argument the entire bull market (2002-2007) was largely based on easy credit and asset inflation. The fundamentals did not support a bottom in stocks in October of 2002, but the Fed was able to inflate asset prices with easy credit and leverage. Since the Fed is using a page from their 2002 playbook, we can reference 2002 to help us better understand the possible effectiveness of the current money printing extravaganza.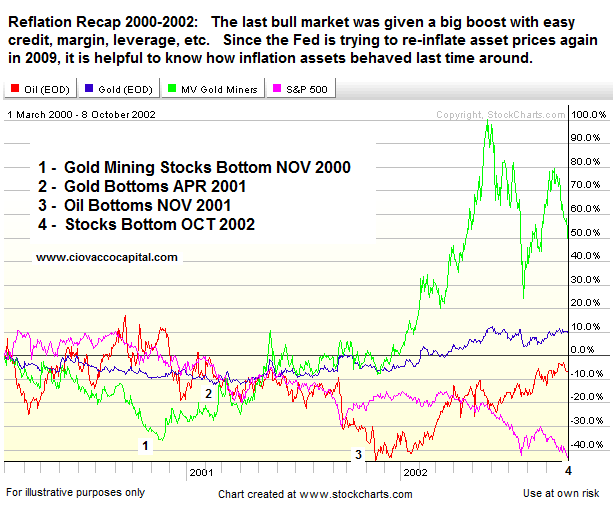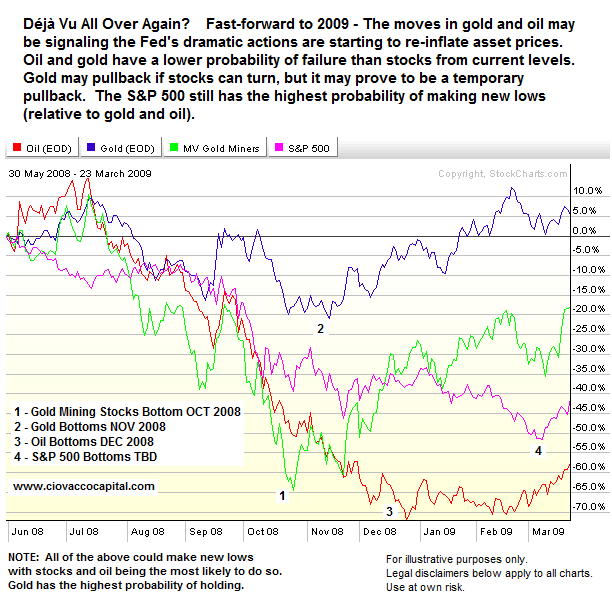 We have seen some very positive signs which signal a probable change in the long-term trend for gold (and gold mining stocks). The key word above is probable, especially in the uncertain state of the world. Gold's move off the lows could also signal the process of reflation of asset prices has started again in 2008-2009. Gold and gold mining stocks bottomed first in the 2000-2002 bear market.
As shown above, oil bottomed after gold and gold mining stocks in the 2000-2002 cycle. Oil has shown some encouraging signs of a probable trend change in 2009.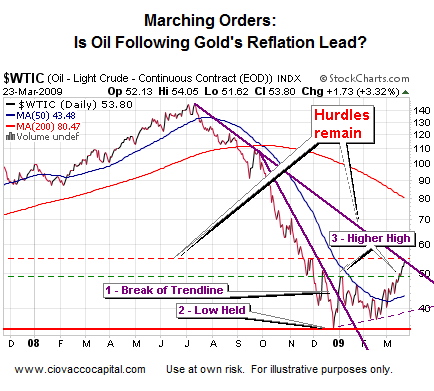 In the 2000-2002 cycle, the stock market bottomed last, and well after gold and oil. While yesterday's move in stocks supports the recent moves in gold and oil, it does not mean stocks are out of the woods yet.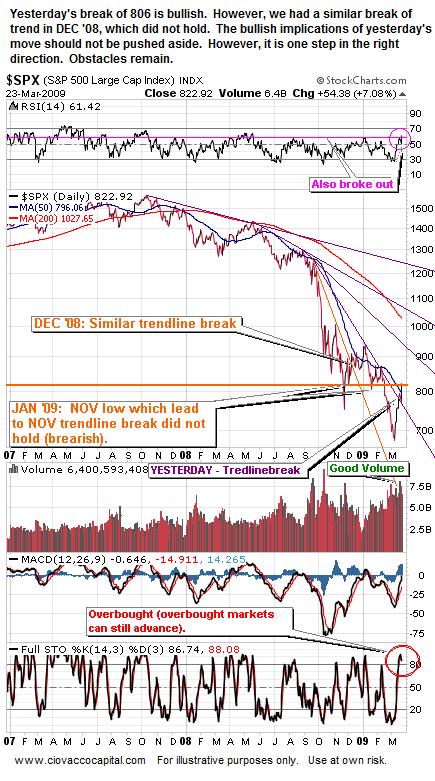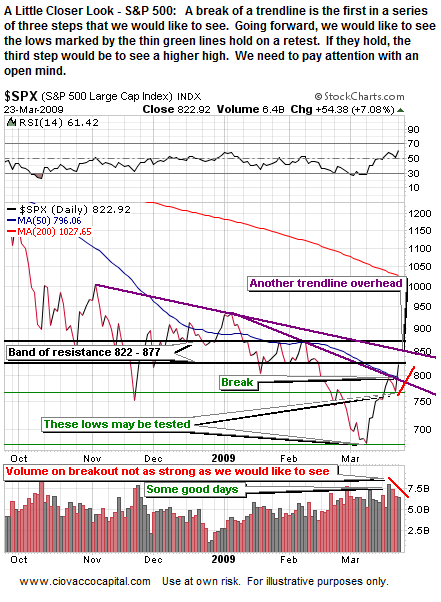 While some progress has been made, the primary trend in stocks remains down for now. We would feel better about stocks if a few more signs of a probable change in trend materialize over the coming weeks and months. Taken together, the moves in gold, gold mining stocks, oil, and stocks, may signal the great reinflation of 2009 has begun. Numerous fundamental risks still exist - so money management and principal protection remain extremely important for all investors and traders. If we continue to pay attention, rather than forecast, we will not go too far off the proper path.
The charts and commentary above are for illustrative purposes only and are not recommendations to buy or sell any security.
Chris Ciovacco
Ciovacco Capital Management

---
Chris Ciovacco is the Chief Investment Officer for Ciovacco Capital Management, LLC. More on the web at www.ciovaccocapital.com

All material presented herein is believed to be reliable but we cannot attest to its accuracy. The information contained herein (including historical prices or values) has been obtained from sources that Ciovacco Capital Management (CCM) considers to be reliable; however, CCM makes any representation as to, or accepts any responsibility or liability for, the accuracy or completeness of the information contained herein or any decision made or action taken by you or any third party in reliance upon the data. Some results are derived using historical estimations from available data. Investment recommendations may change and readers are urged to check with tax advisors before making any investment decisions. Opinions expressed in these reports may change without prior notice. This memorandum is based on information available to the public. No representation is made that it is accurate or complete. This memorandum is not an offer to buy or sell or a solicitation of an offer to buy or sell the securities mentioned. The investments discussed or recommended in this report may be unsuitable for investors depending on their specific investment objectives and financial position. Past performance is not necessarily a guide to future performance. The price or value of the investments to which this report relates, either directly or indirectly, may fall or rise against the interest of investors. All prices and yields contained in this report are subject to change without notice. This information is based on hypothetical assumptions and is intended for illustrative purposes only. PAST PERFORMANCE DOES NOT GUARANTEE FUTURE RESULTS.