CCM's Stock Market Blog – Investing Blog – Financial Blog - Updated Regularly


CCM Short Takes
Archives

07/21/2010 - Before the open: Samuel Johnson (1709-1784), the English poet, once said, "Our brightest blazes of gladness are commonly kindled by unexpected sparks". After an awful trading day last Friday, Monday's and Tuesday's stock market action definitely fall into the unexpected sparks category. Technical analysis is about discerning the composite mood of all market participants. When the market does something unexpected, it is something worth keeping an eye on. Some other minor and subtle shifts have occurred in market behavior in the last four trading sessions; (1) we closed above the 50-day moving average (red line in chart below) for the first time in over ten weeks, and (2) the 20-day (blue line below) is attempting to act as support in the past two trading sessions. These are minor occurrences, but they are steps in the right direction. Another close above the 50-day moving average (now at 1,088), would be a fairly significant short-term event for the stock market.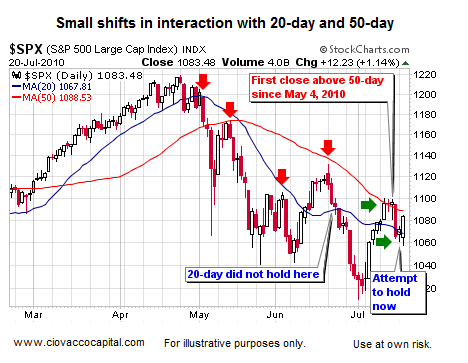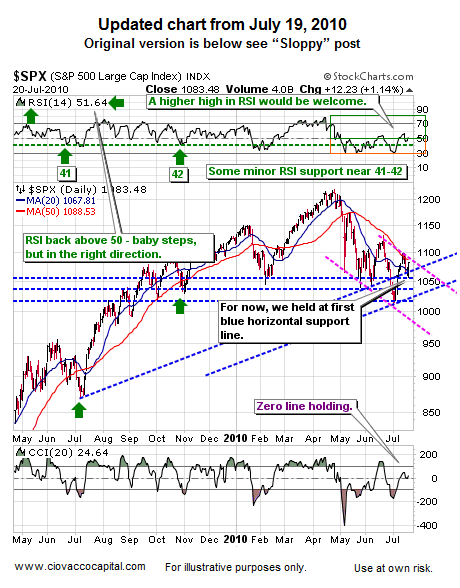 On July 19, 2010, we postulated the market may find its footing between 1,030 and 1,064. The intraday low yesterday was 1,056, which may not hold, but it was a fairly logical area for a possible turn. Maybe Apple's strong earnings this morning can lead to some more 'unexpected sparks'. The bears are still a relatively healthy in the short-term, but at least the bulls are putting up a fight.
07/20/2010 - Before the open: Not much new on the technical front this morning. Yesterday's gains did improve things moderately, but as of 7:00 am ET, it appears as if a lower open for stocks will reverse those gains.
There is some good news out of Europe today related to the ever important debt markets:
Spain, Ireland and Greece sold almost 10 billion euros ($13 billion) of debt, with demand rising for shorter-dated securities, on optimism the European Union's aid programs will contain the region's fiscal crisis. (Full Debt Story).
07/19/2010 - Before the open: While it was only one day, Friday's stock market action was concerning. In the post Can Earnings Break Technical Funk, we discussed how strong markets tend to have RSI spend the majority of its time between 48 and 72; weak markets between 30 and 52. On Friday, the turns in both RSI (relative strength index) and CCI (commodity channel index) are not what we want to see. The current market is difficult to call in the short-term. Despite the recent move off the lows, the bulls never regained full control of the market from the bears. The market is there for the taking in the short-term. We will see who steps up; bulls or bears.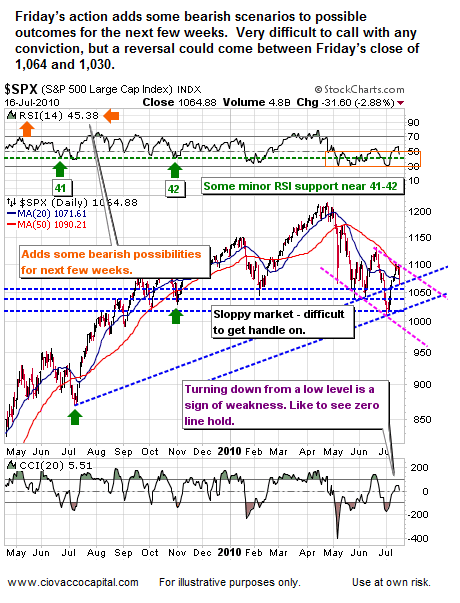 Friday's action opens the door to numerous scenarios for the next few weeks. While further deterioration in either the fundamentals and/or the technicals could change our outlook, we still believe the odds favor higher stocks prices in later in 2010 or in 2011 (see Stocks May Surprise By Year End).
07/16/2010 - CCM Clients - After the close: We did some limited and selective selling in numerous client accounts today. For now, we still see the market being higher later in the year, but some additional corrective activity may be in store. It is a little too early to read too much into today's action, but it was not good. We are working on a client update and will continue to work on it over the weekend.
The CCM Bull Market Sustainability Index (BMSI) closed Thursday in neutral territory at 1,193. S&P 500 performance following historical BMSI scores between 1,000 and 1,400 is shown below. While we are concerned about today's market activity, S&P 500 returns following similar technical profiles to today's market are favorable from a risk-reward perspective, especially over the next nine to twelve months.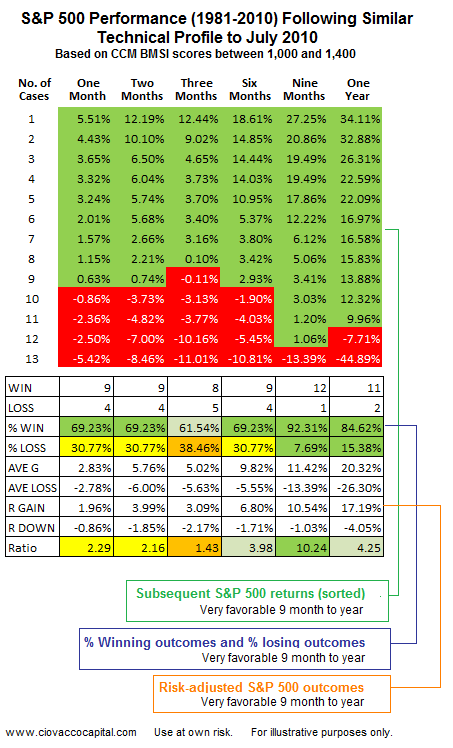 A review of recent history illustrates falling consumer confidence does not necessarily forecast poor stock market performance. Today's report and market action is concerning, but consumer confidence's peak early in the last recovery cycle did not mark the end of the bull market. In fact, while the University of Michigan/Reuters consumer confidence Index dropped 27% from January 2004 to October of 2007, the S&P 500 Index gained 42%. It should be noted 2004 represents a very similar part of the recovery cycle to where we are today in 2010.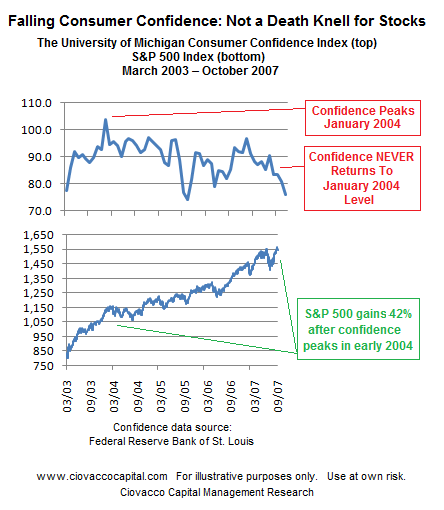 As of early Friday morning, fourteen companies have reported earnings. Eighty-six percent of them have met or exceeded expectations. We fully understand and respect the deflationary forces that are present in the global economy, such as high levels of debt, excess capacity, tighter credit conditions, etc. It is possible future economic data and earnings figures will deteriorate to a point that supports both a double-dip recession and a bear market, but the evidence we have in hand today supports neither. Let's compare and contrast, in an admittedly unscientific manner, recent earnings releases with earnings for Q3 2007. We chose Q3 of 2007 because those figures were released as we were entering a painful bear market (2007-2009): Below is from Bloomberg on Q3 2007 earnings:
S&P 500 companies have posted an average profit decline of 0.6 percent in the third quarter of 2007, the first drop since 2002, according to Bloomberg data. Twenty-seven percent of the 132 companies in the index that have reported results so far have trailed analysts' estimates, compared with 21 percent in the second quarter.
The key phase above is "profit decline". The economy in present day 2010 is far from robust, but the data is moving in the right direction, albeit at a relatively tame pace. Compare the "profit declines" in 2007 with a sample of recent earnings announcements:
Intel reported its biggest quarterly profit in a decade.

Alcoa reported a $136 million profit on stronger-than-anticipated 22% revenue growth and hiked its global aluminum consumption forecast.

General Electric Co. (GE) reported a 16% profit rise.

Freight rail hauler CSX beat earnings expectations on both the top and bottom lines. EPS came in at $1.07 versus the 98 cents that analysts had expected. Revenues of $2.7 billion topped the $2.64 billion that analysts forecast (Source: WSJ).

Bank of America said Friday its second-quarter net income rose 15 percent to $2.78 billion as improvements in the company's consumer loan businesses made up for a drop in trading revenue The bank's results beat expectations and provided further evidence that losses from failed loans at the nation's big banks may have peaked in the first half of 2010 (Source: AP).

Mattel Inc.'s second-quarter net income more than doubled, boosted by sales of Barbie and toys tied into the Pixar smash "Toy Story 3," the toymaker said Friday. Mattel's revenue rose 13 percent to $1.02 billion, matching analyst expectations. (Source: AP)
The financial markets, from both technical and fundamental perspectives, need to be monitored closely in the coming weeks and months. We originally referenced, in Stocks May Surprise By Year-End, the Wall Street Journal article, Fear of a Stall Hits Market. To re-emphasize the point that slower and disappointing economic growth does not necessarily lead to a bear market, we again present the following from the WSJ (6/30/2010):
Pauses aren't uncommon early in a recovery. After rebounding from recession in late 2001 and early 2002, the economy had a 12-month stretch in which it grew at a paltry 1.5% annual rate, sparking fears of a double-dip recession. In late 1991, growth waned after a recovery had started. In the past 12 months, the economy has gotten off to a faster start than in 2002.
We remain concerned, but not overly so, about the market's current condition. We continue to monitor the situation closely. We will post some additional comments on the markets later today.
07/15/2010: The markets have been relatively quiet for the past 24 hours. The S&P 500 closed yesterday above its 50-day moving average (1,093), which is good all things being equal. The fall elections will obviously impact our economy and the financial markets. How significant that impact may be is highlighted in a Bloomberg National Poll conducted July 9- 12. Here are some of the more interesting numbers from the detailed results (link to article appears below):
Among those who say they are most likely to vote, Republicans are favored, 48 percent to 40 percent. The Republican advantage is even greater among likely voters who view the election as exceptionally important, with Republicans beating Democrats 56 percent to 34 percent.

Among independents likely to vote, Republican congressional candidates are preferred to Democrats, 50 percent to 29 percent.

Karlyn Bowman, who studies public opinion at the American Enterprise Institute, a public-policy research group in Washington, calls the poll "very, very grim news for the Democrats."

The proportion who feel the nation is headed in the wrong direction is about the same as at this point in 1994, when Republicans took control of Congress, and 2006, when Democrats took over. (Full Bloomberg Poll Story).
On the last point (1994 & 2006), the stock market performed well in both 1995 and 2007. In the present day, the S&P 500's 200-day moving average sits at 1,112. Markets can be volatile near the 200-day, which is something that would not come as a big surprise.

We believe we have most of the kinks worked out of the "new" Short Takes. You may want to update your bookmarks after using the link below. The web address of the "new" Short Takes will be different from the "old" Short Takes.

07/14/2010: Intel reported strong earnings on Tuesday after the bell. Intel's outlook, along with recent reports from CSX and Alcoa, helped ease some fears related to the perception of an imminent double-dip recession. From a Bloomberg story:
"All of a sudden, you start questioning the double-dip," said Pat Becker Jr., a fund manager at Becker Capital in Portland, Oregon, which owns 1.5 million Intel shares as part of $2.2 billion under management. "It clearly makes some of the doubts that had crept into the tech sector vanish." (Full Earnings Story)
The stock market made some progress today with RSI clearing a key short-term level. The 50-day moving average may provide some resistance.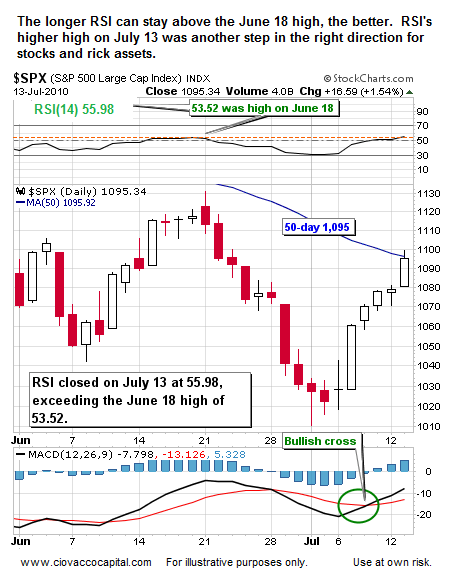 We believe we have most of the kinks worked out of the "new" Short Takes. You may want to update your bookmarks after using the link below. The web address of the "new" Short Takes will be different from the "old" Short Takes.

MORE Short Takes - Previous Entries
Chris Ciovacco
Ciovacco Capital Management

---
Chris Ciovacco is the Chief Investment Officer for Ciovacco Capital Management, LLC.

Ciovacco Capital would like to thank StockCharts.com for helping Short Takes create great looking charts.

Terms of Use. This article contains the current opinions of the author but not necessarily those of CCM. The author's opinions are subject to change without notice. This article is distributed for informational purposes only and should not be considered as investment advice or a recommendation of any particular security, strategy or investment product. The charts and comments are only the author's view of market activity and aren't recommendations to buy or sell any security. Market sectors and related ETFs are selected based on his opinion as to their importance in providing the viewer a comprehensive summary of market conditions for the featured period. Chart annotations aren't predictive of any future market action rather they only demonstrate the author's opinion as to a range of possibilities going forward. All material presented herein is believed to be reliable but we cannot attest to its accuracy. The information contained herein (including historical prices or values) has been obtained from sources that Ciovacco Capital Management (CCM) considers to be reliable; however, CCM makes no representation as to, or accepts any responsibility or liability for, the accuracy or completeness of the information contained herein or any decision made or action taken by you or any third party in reliance upon the data. Some results are derived using historical estimations from available data. Investment recommendations may change and readers are urged to check with tax advisors before making any investment decisions. Opinions expressed in these reports may change without prior notice. This memorandum is based on information available to the public. No representation is made that it is accurate or complete. This memorandum is not an offer to buy or sell or a solicitation of an offer to buy or sell the securities mentioned. The investments discussed in this report may be unsuitable for investors depending on their specific investment objectives and financial position. Past performance is not necessarily a guide to future performance. The price or value of the investments to which this report relates, either directly or indirectly, may fall or rise against the interest of investors. All prices and yields contained in this report are subject to change without notice. This information is based on hypothetical assumptions and is intended for illustrative purposes only. PAST PERFORMANCE DOES NOT GUARANTEE FUTURE RESULTS.